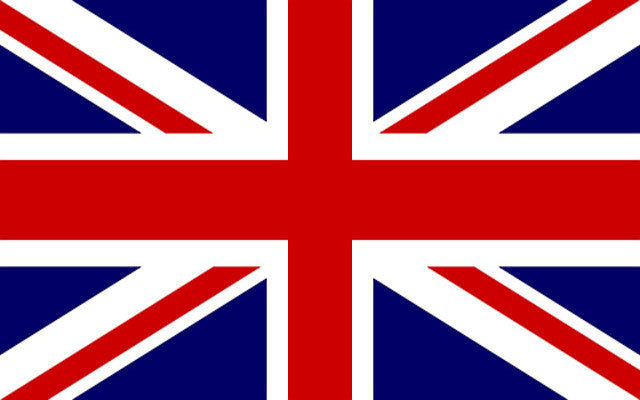 Download ISportWall Brochure in preferred language
Catch up on learning and promote exercise and fitness at the same time.
ISportsWall is an innovative new development by Amazing Interactives ltd that converts a large 4m to 6m wall within a school hall turning it into an interactive classroom for catch up learning and exercise. It currently has over 70 modules covering both educational and physical activities to suit age ranges 4 to 11. The innovative system allows large/small groups of pupils to interact with the modules by throwing balls or touching the wall.
All of the ISportsWall educational content, English, phonics, maths science, history, geography and physical education are based on the UK 2020 curriculum.
ISportsWall also makes better utilisation of halls by creating an additional presentation space. This can be used for large group teaching or assemblies. It also includes a powerful lighting and sound system that can be used for school events, fundraising, parties etc.
ISportsWall includes a large range of educational and physical modules covering English, phonics, maths science, history, geography, physical education and a fun zone. The system also includes modules that allow the teacher or students to create their own quiz questions and answers to fit within teaching sequences. It also allows for interschool competition using the internet to relay scores between schools so there is no need to travel or visit the other schools.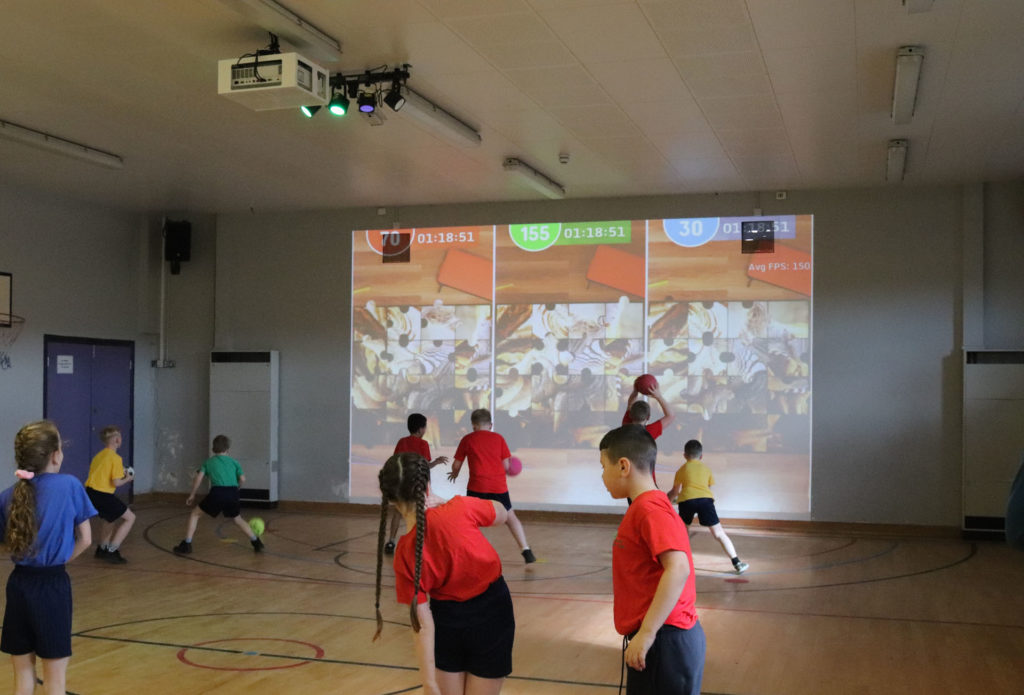 Kader Primary head teacher Alison Mitchinson said: "The technology was amazing. Our hall space has been developed to create an enhanced learning environment. I am really keen to see how our children enjoy and progress through it's continued use."
Advantages of using ISportsWall
Helps with catchup learning and exercise.
Stimulates pupils both physically and mentally.
Delivers sports funding objectives.
Interschool competition without the need to travel or visit the other school.
Can help with social distancing as can space out the teams/bubbles whilst playing.
Makes learning Maths, English, Phonics, Science, History and Geography fun whilst exercising.
Helps periodic retrieval of learning that strengthens connections to the memory.
Stimulates physical effort through competitive fun based exercise.
Improves fundamental movement skills which helps reduce obesity in later life.
Can be used as a reward based activity for good behaviour.
Can support children with challenging behaviour by stimulating them to learn.
Can be used as a fun activity at break times or in after school clubs.
Creates a new presentation and educational space with laptop and sound input.
System Characteristics
| | |
| --- | --- |
| Parameters | Characteristics |
| Model | ISportsWall |
| Manufacturer | Amazing interactive |
| 3D camera | Designed to recognize physical objects (balls, etc.) as well as reacting when a person touches a wall with the palm of their hand. There are recognizable objects 15 cm in diameter. Recognition resolution – 600×500. |
| Sound system | Dual channel 250W |
| Light system | 2 lighting system |
| Software | All software is provided with an unlimited license. Set of 40/70 games for the following topics and subjects: • Biology • Mathematics • History • Coordination puzzle • Astronomy • Geography • For sports (handball, basketball) The games are divided into difficulty levels, and the total number of different levels is 200. |
| Computer controlling the system | System control computer Integrated into system modules, i5/i7 generation, 8 GB RAM, 120 GB SSD |
| System compatibility | The whole system is compatible with each other. |
| Warranty | 24 months. |
ISportsWall Games List
ENGLISH – Boss Fight Grammar(3 age ranges), Anagrams(4 age ranges), Spelling(3 age ranges), Age5-6 GPS Word Level, Age 7-9 spelling quiz.
PHONICS – Age 4-6 Phonics Set 1, Age 5-7 Phonics Set 2, Age 5-7 Phonics Set 3.
MATHS – Quick Quiz Maths(4 age ranges), Maths Calculations( 3 age ranges), Coin Game, 2D Shapes, Pattern Rotation, Cub Fractions Puzzle(2 age ranges), 3D Shapes, Multiplication 2 5 and 10, Multiplication 3 4 and 6, Multiplication 7 8 and 9, Multiplication 11 and 12, Multiplication all tables.
SCIENCE – Quick Quiz Science(2 age ranges), Age 5-6 Science Animals including humans, Age 5-6 Science Materials, Age 5-6 Science Seasons, Age 7-8 Science Animals including Humans, Age 7-8 Science forces and magnets, Age 7-8 Science light, Age 7-8 Science Plants, Age 7-8 Science Rocks, Age 7-9 Science Sound, Age 7-9 Science States of matter, Age 8-9 Science Animals including Humans, Age 8-9 Science Electricity, Age 8-9 Science Living Things and Their Habitats, Age 9-10 Science Earth and Space, Age 9-10 Science Forces, Age 9-10 Science Living things and their habitats, Age 9-10 Science Materials, Age 10-11 Science Animals including humans circulatory system, Age 10-11 Science Electricity, Age 10-11 Science Evolution, Age 10-11 Science Light, Age 10-11 Science Living things and their habitats.
GEOGRAPHY – Quick Quiz Geography (age 7-11), Maps(3 age ranges)
HISTORY – Quick Quiz History(age 7-11), Age 7-11 History Ancient Egypt, Age 7-11 History Ancient Greece, Age 7-11 History Ancient Romans, Age 7-11 History – Victorian Britain.
PHYSICAL EDUCATION – Scoreboard/Timer, Relay Race, Basketball, Goals, Handball, Beep Test, Reaction Game, Moving Target.
FUN ZONE – Breakout, Puzzle Wildlife, Puzzle landmarks (European), Puzzle Landmarks (World), Asteroids, Flash Memory, Who Wants to be a Billionaire, Balloon Pop, Picture Wipe, Clean the River.
CUSTOM QUIZ BUILDER – Question quizzes, Picture Quizzes, Picture Puzzle builder.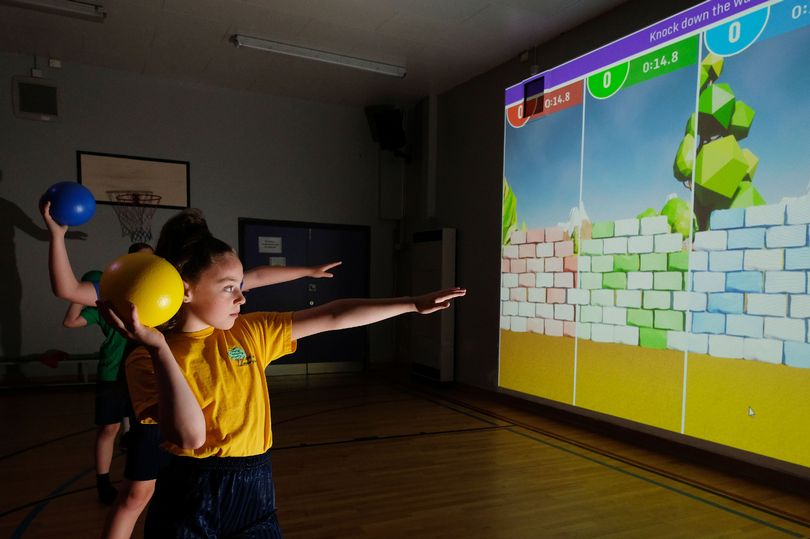 ISportsWall is easy to use and has both automatic and manual setup. The whole system is operated from a small wireless rechargeable keyboard, which is used to select and configure the games. The system also includes a 4 light RGBW bar that creates lighting effects during game play, or to music for other school events. An extra wall input plate is also installed that allows the projection and sound system to be used for normal presentations from a laptop, or sound from an Ipad/phone e.t.c.
Whats Included in the System
6000 ansi-lumen Laser WUXGA projector 1920×1200 – 20,000 hours on the laser.
Projection cage and ceiling mount.
1 MP time of flight depth and Infra red camera.
Camera cage and ceiling mount.
Mini Virtual Reality PC to drive the system with high end graphics.
Stereo Sound system using active 800 watt speakers.
An all-in-one lighting system with 4 powerful RGBW lights.
Rechargeable wireless keyboard and mouse.
USB to DMX lighting controller.
Projection wall controller to switch system on/off and switch inputs.
HDMI/Audio wall plate and all video and audio cabling.
Full software suite with over 70 modules including custom quiz builder.
3/4 day installation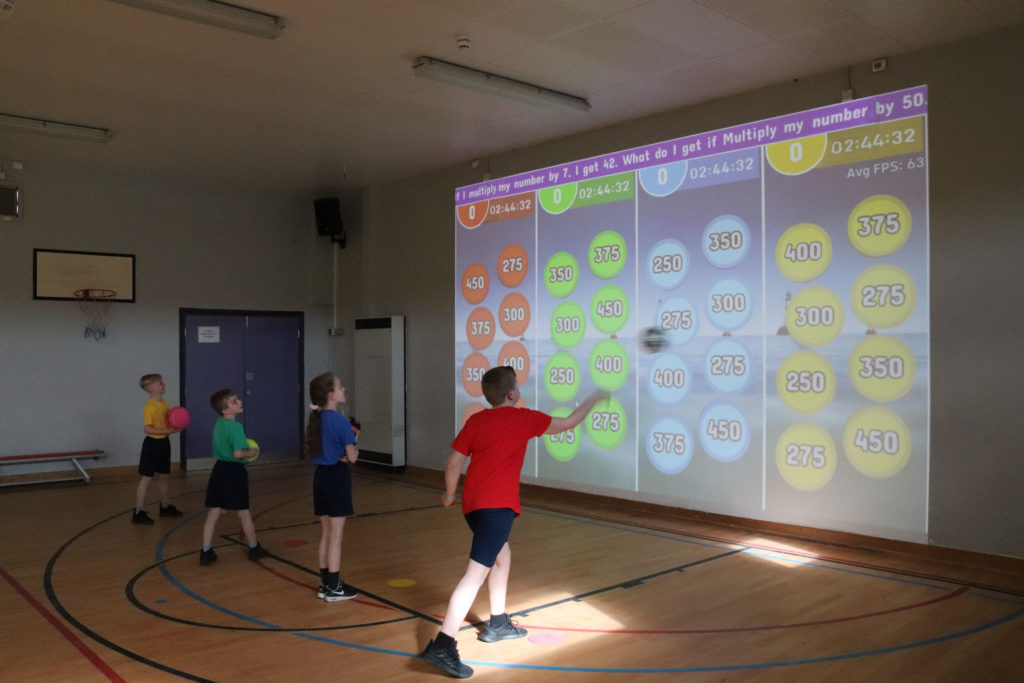 Optional ISportsWall Classroom site licence
The optional ISportWall site licence allows the school to install the software within their classrooms. This allows quizzes to be created by the teachers or students and then be uploaded to the main ISportsWall system. The games can also be played locally within the classroom on the Interactive boards.
A future development will allow the games to be played on Ipads and Android devices allowing the children to practice the educational quizzes on their own or in small groups.
ISportsWall Floor
Contact us below for pricing and for more information on how ISportsWall can be funded through the Sports Premium.